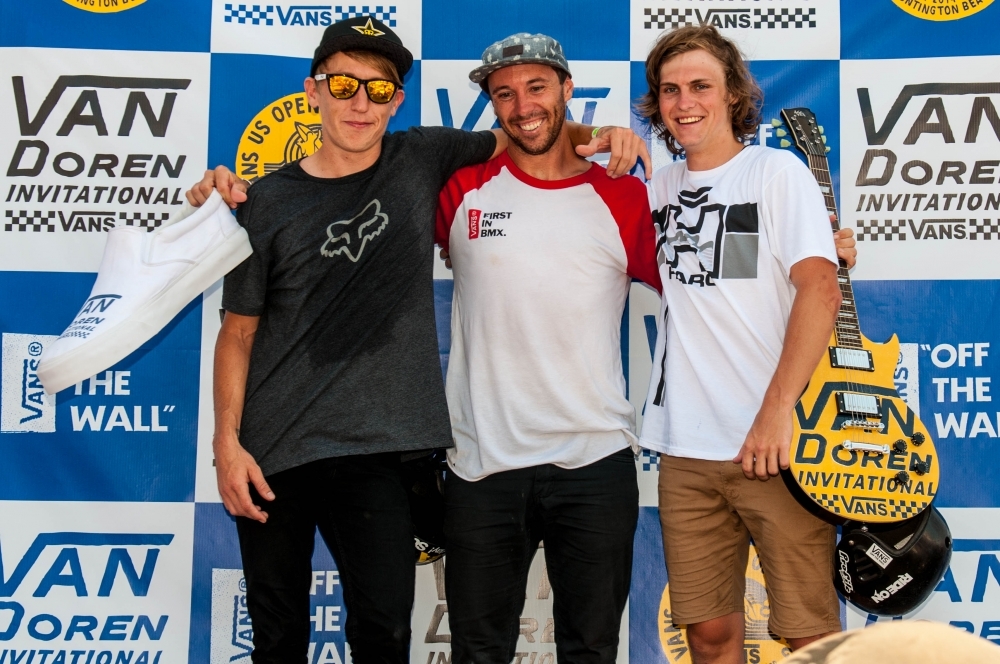 Chase Hawk (2nd) Gary Young (1st) and Jason Watt (3rd) – 2014 Van Doren Invitational at Vans US Open
Photo by @brandonmeans
BMX BOWL RESULTS: Final Prelims
Check out the On Demand webcasts and photo galleries at Vans US Open of Surfing
BMX FINAL Recap – Sunday, August 3, 2014
It was an amazing final for the 2014 Van Doren Invitational BMX Bowl Comp. Unfortunately, the favorite going in, and clear-cut winner of the prelims, Dennis Enarson, suffered an injury during the last minutes of practice and could not compete.
The rest of the field delivered in a big way. Huntington Beach local Kris Fox again rode faster than anyone, blasting huge airs all over the course for 6th place. 4th and 5th place went to two of last years finalists, Dan Foley and Sergio Layos. Both were dialed with clean runs and original lines.
Jason Watts of Brisbane, Australia landed on the podium thanks to 3 insane runs. Gigantic airs that flowed into tech lip tricks like a long pedal hang 5.
Returning to the podium again this year, and fresh off his X Games gold, was Chase Hawk from Austin, Texas. His unmatched style and flow, coupled with huge airs and fast manuals, landed him in 2nd place.
Gary Young could be described as a rider's rider, and a win from him brings a smile to the face of BMX. The San Diego local missed last year's event due to an injury suffered a month after winning X Games gold in Barcelona. Healthy and back in top form, he put together 3 incredible runs, clicking turndowns and nose-bonking into flat tables during lines that were all his. His 450 transfer from the deck into the bowl was done to perfection on the way to a well deserved win.
Immediately after the finals, Tom Dugan blasted to the 13′ mark to win high air and put an exclamation point on an incredible weekend of BMX riding from all the riders at the 2014 Van Doren Invitational. Big thanks to Steve Van Doren and the rest of the Vans family and IMG on another banner event. What a blast!
BMX BOWL FINAL RESULTS
1. Gary Young
2. Chase Hawk
3. Jason Watts
4. Dan Foley
5. Sergio Layos
6. Kris Fox
7. Tyler Fernengel
8. Kevin Kalkoff
9. Daniel Sandoval
10. Larry Edgar
11. Matt Cordova
12. Sebastian Keep
13. Matt Roe
14. Scotty Cranmer
15. Dennis Enarson (DNS)
HIGH AIR – Tom Dugan
BEST TRICK (PRELIMS) – Dennis Enarson
BEST LINE (PRELIMS) – Chase Hawk
Gary Young. Photo by @brandonmeans
Chase Hawk. Photo by @brandonmeans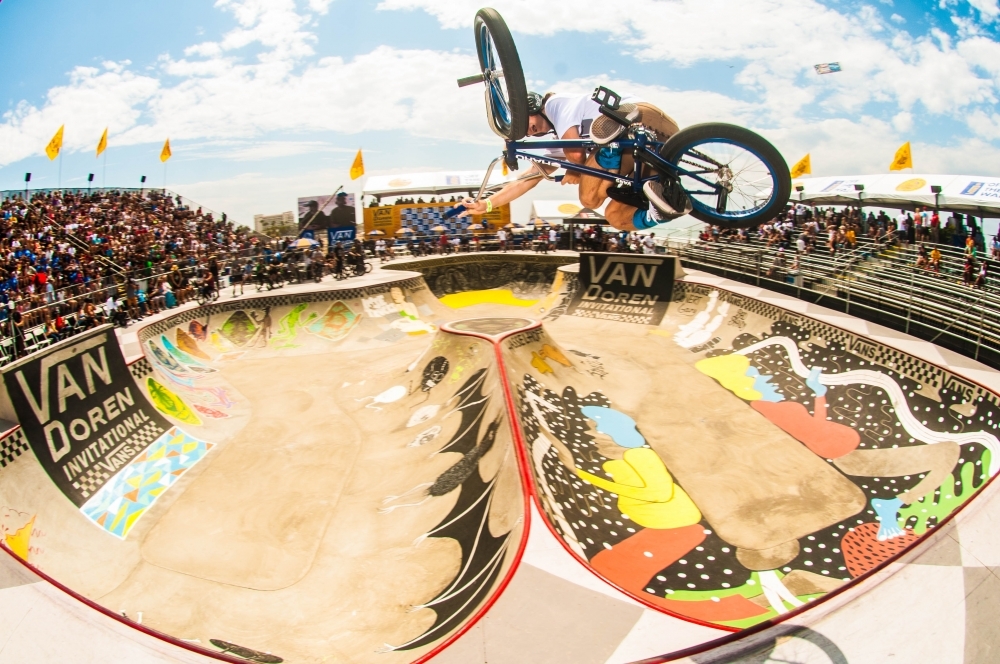 Jason Watts. Photo by @brandonmeans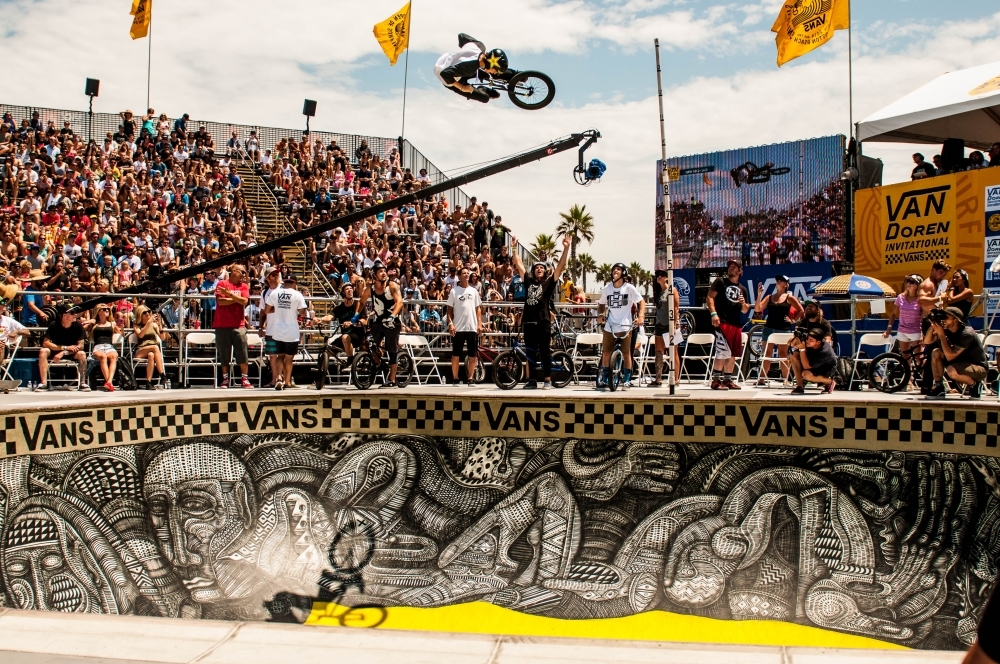 Tom Dugan High Air winner. Photo by @brandonmeans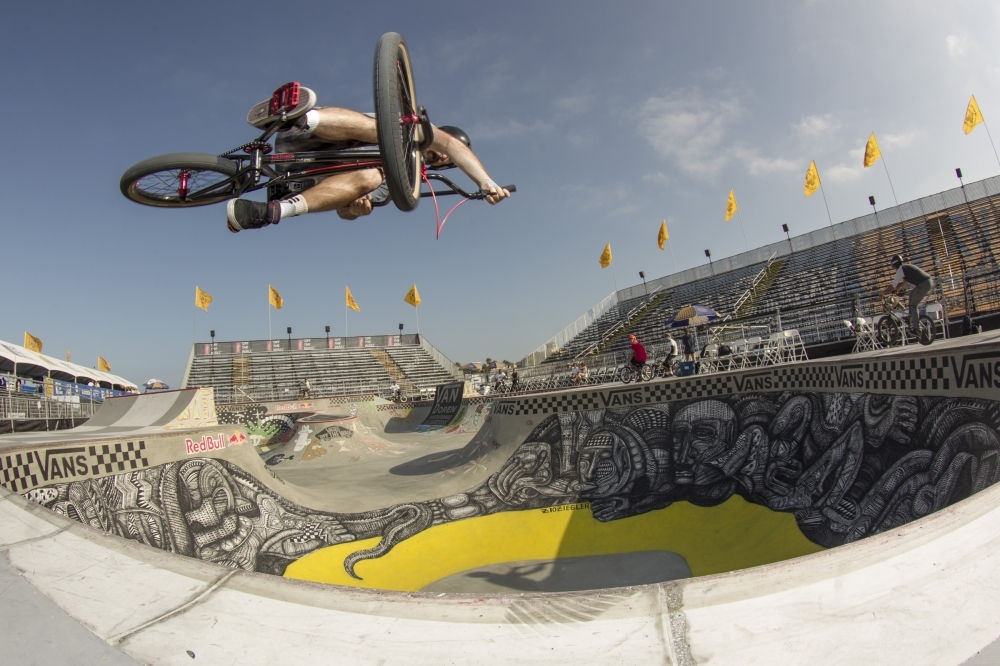 Brian Blyther during practice for the Vans Classic BMX Jam Photo by @brandonmeans 
Ride BMX Final Highlights
Ride BMX Prelim Highlights
Ride BMX Day 2 Practice
Ride BMX Day 1 Practice